Law Firm Solution
Law firm solutions that are both easy and powerful. It simplifies business for small legal companies by bringing everything together in one location. It can be tailored to the specifics of the jurisdiction in which you practise. It may execute simple as well as easy tasks to help you run your legal firm more efficiently. ManekTech assists law firms and in-house legal teams in consolidating all important information into a single, clear, and easy-to-use platform. In a fully searchable database, create new case records, amend old case records, and save them.

Keep track of your deadlines.
Manage your deadlines and you'll never miss another critical date again. ManekTech allows you to add and amend deadlines for each case, and then automatically update them.

Reduce the possibility of human error
ManekTech guarantees that the necessary data is captured accurately and that it is not lost.
Data Storage and Tracking
Managing legal data necessitates the synchronization of several complicated activities. ManekTech allows you to save and retain case-related information on a single platform.
Functionality
Communication and document retrieval should be coordinated.
You may search for and locate specific information at any time. ManekTech allows many lawyers to work on the same case and share documents in a simple and efficient manner.
Work from anywhere at any time
Client papers may be accessed at any time and from any location. This is a huge benefit since it allows you to be productive and complete your tasks regardless of where you are.
Your Expectations Will Be Met
Empower your organization and assist your staff in responding to customer demands quicker and more effectively than previously.
An all-in-one case management solution for lawyers.
You may now have all of the information you need at your fingertips, including cases, papers, deadlines, costs, bills, and time records. No more squandered time, misplaced data, or missed deadlines.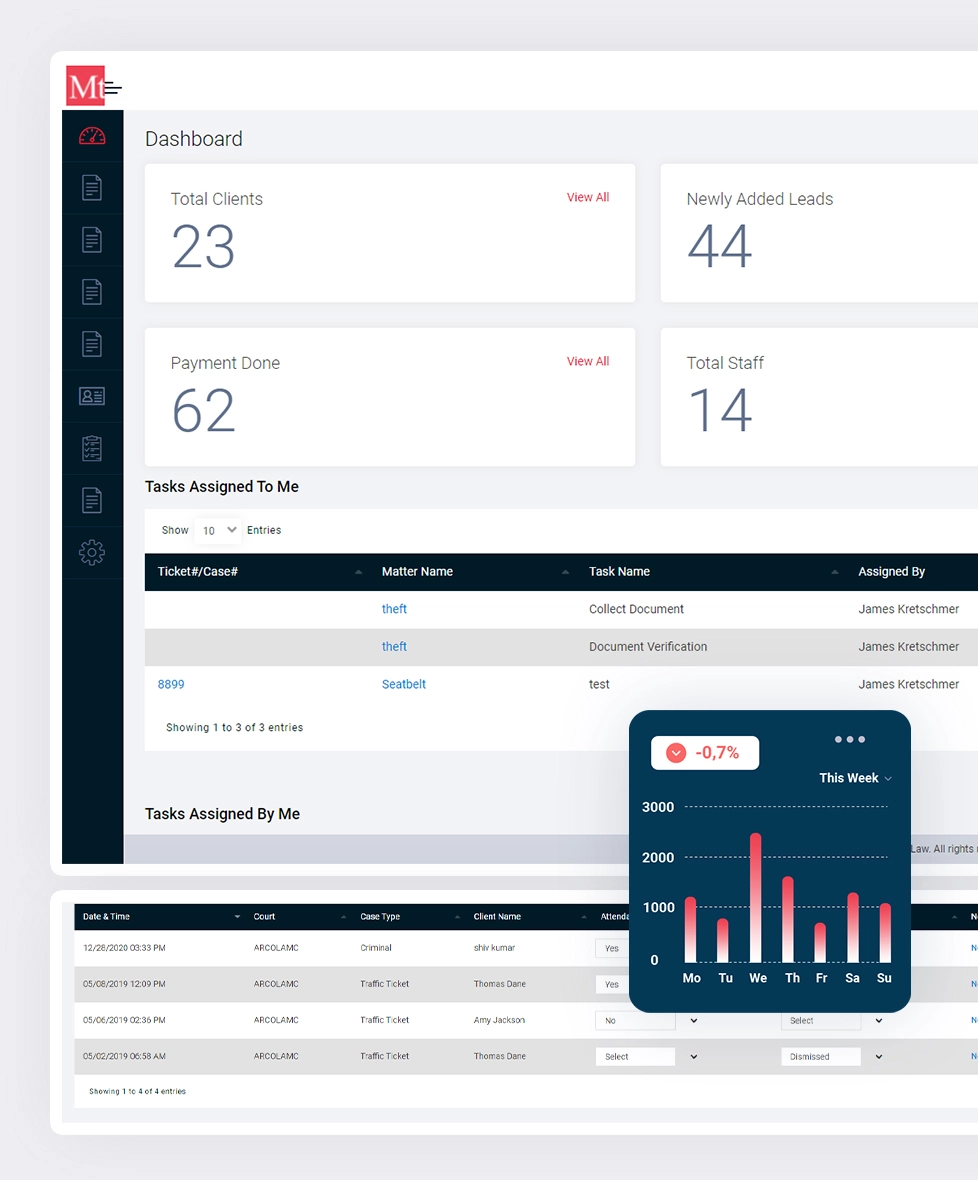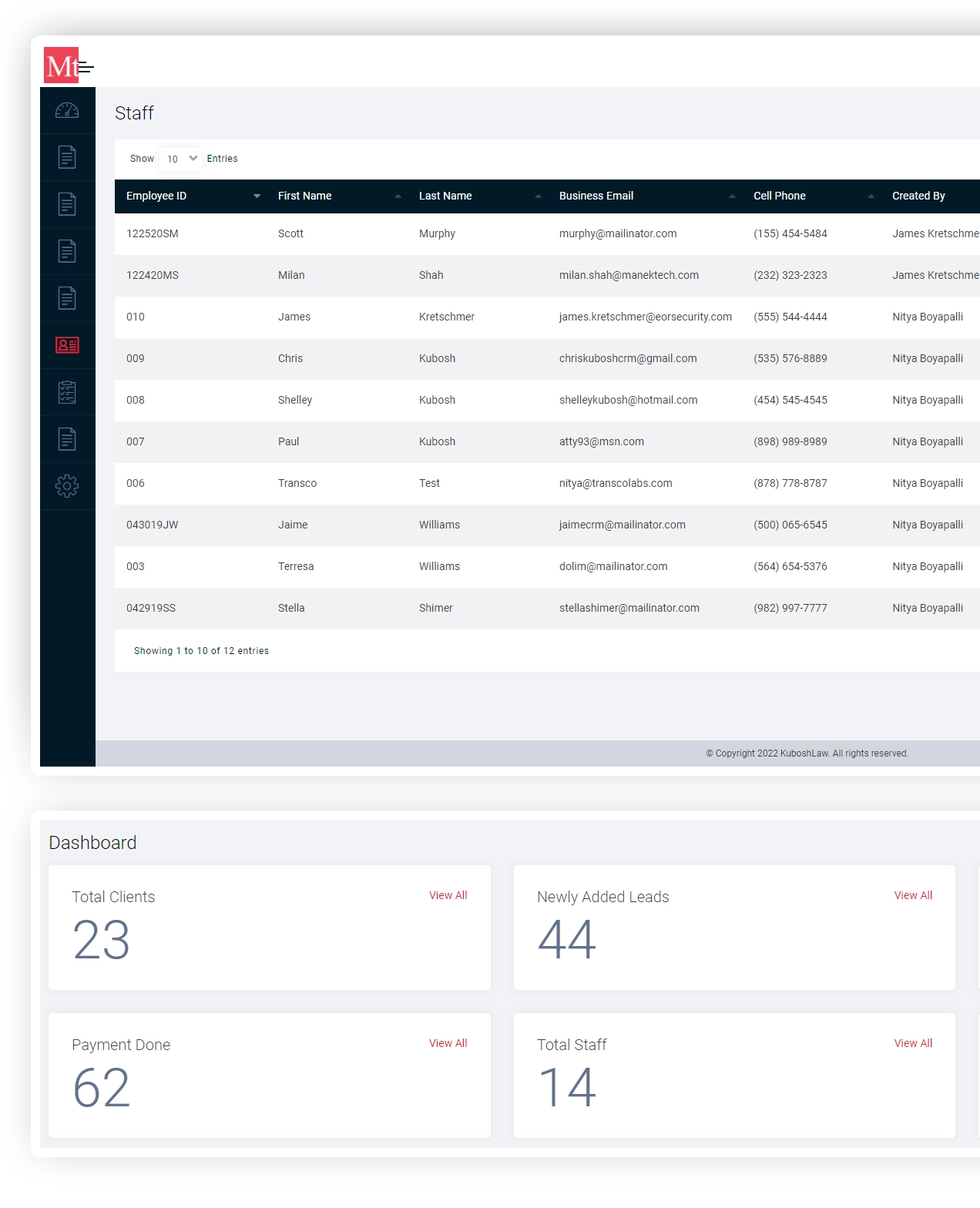 1
Reduce Risks : Clients now want their law firms to be trusted partners that know their industries and businesses well and out and are totally involved in their success.
2
Enhance Development : Information is a powerful tool. Being able to swiftly and readily obtain the knowledge your firm's attorneys require to conduct their jobs successfully gives chances for professional development.
3
Save Time & Increase Efficiency : When everyone in your company has access to the same up-to-date information and can communicate and cooperate rapidly, you'll save a lot of time and hassle, and your productivity will soar.
4
Trusted Solution partner : Updates are made on a regular basis to ensure you have the knowledge and resources you need to be the authoritative and trusted resource that clients can rely on.
5
Retain Clients : When it comes to attracting and maintaining clients, your organization must stand out and provide something that your competitors cannot. You must portray your company as a real partner, demonstrating that you understand and care about your clients' success.
Our clients simply love our work
Rated 4.9/5.0 by 500+ clients for iOS and Android development services on various platforms #Client's love
My company utilizes ManekTech for assistance with expediting our production. They have provided exceptional service thus far during the numerous projects I have contracted them for, and I continue to work with them. Great company, great team, and great pricing.
Need a consultation?
Drop us a line! We are here to answer your questions 24/7
Areas we serve
USA
4100 NW Loop 410, Suite 200, San Antonio, Texas, USA 78229
UK
7 Artisan Place Harrow, HA3 5DS
India
4th Floor, Timber Point, Prahaladnagar Road, Ahmedabad, Gujarat - 380015