Technology is playing a big part in every industry and gradually yet constantly, it is trying to shape the evolution of the retail sector. Some technologies with the upper hand in this industry revolution are Artificial Intelligence, Big Data, Machine Learning, and IoT.
According to a report, it is anticipated that by the end of 2021, IoT will be a strategic part of 80% of global retailers. Also, IoT's global market size in the retail sector will see a considerable shift in 2025 at 19.5% CAGR and 35.5 billion USD. All this data indicates the growth of IoT in the retail industry.
But what do you think has led to such an immense growth of IoT in the retail industry? The retail sector can help you in many ways, like improving store operations, tracking energy utilization, managing in-store navigation, and monitoring goods.
You can do all this and more to manage your retail business through IoT app development. Now make customized IoT applications for your business to improve user's experience and grow your business by creating an efficient retail platform.
However, what makes these retail platforms unique? What features must IoT applications have for trending? What are the trends that IoT follows to build better retail platforms? What will make your retail platform target an audience and reach more people?
To answer your questions, below is a list of five trends IoT transformations to improve your retail platform and attract more audience to grow your business.
Top IoT Transformation Trends in the Retail Platform
The five IoT transformation trends you must follow to build a better retail sector platform are:
Source: (Astera)
Now integrate data in your system to predict your customers' demands and quickly upgrade your retail platform with new algorithms and opportunities. Seamless integration of data in your retail system will help you understand all the aspects of your retail process, manage your inventory better and increase your employee productivity. CRM also plays a significant role in targeting a better audience and creating attractive market campaigns.
Source: (Jasoren)
With diminishing lines between digital and physical shopping experience, you can now access AR and VR technology in your online store to give a better customer experience. Online shopping platforms offer your end customer convenience, safety, security, and doorstep delivery of the product.
Automation allows you easy workflow by recommending your product to other customers and demand predictions to customer service. One thing that many retailers are trying to do is understand their customers better. Automation handles front-end and back-end processes like supply chain, inventory, and other back-office data to accelerate the workflow of your retail platform.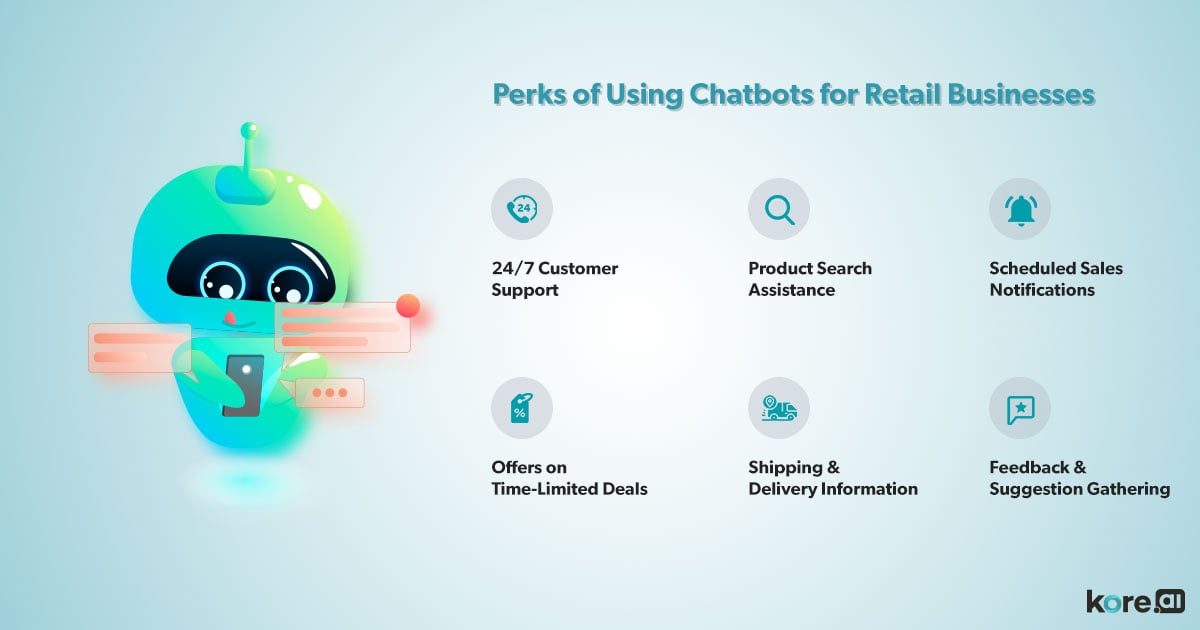 Source: (Kore)
Chatbots help you reach your customer faster and more effectively by answering all their queries and providing them with reliable and scalable solutions. With time Chatbot technology has become more sophisticated and gets more personalized with your customer. These chatbots help you to reach your goals by bridging the gap between online and offline experiences.
E-commerce offers many benefits to retailers. The platform helps retailers to react quickly to the changing demands of the business. They allow you to reach globally and move to adjacent markets like B2B and B2C. With CRM, ERP, and WHM systems in your eCommerce platform, you can deliver accurate information to customers.
How ManekTech Helps Make an Efficient Retail Platform
ManekTech is one of the best Custom Software Development Company India, as it designs the best-customized solutions as per your business requirements. The software helps you to manage your business better by delivering you the best software applications like mobile applications, enterprise applications, and more. ManekTech's custom software will help you in maintaining and sustaining your customization.
Apart from that, Manektech is a top-notch Ecommerce Development Company helping retailers to build their own custom channel to offer products and services through a retail platform. The retailers are shifting their business on eCommerce platforms and Manektech can help you succeed in this shift. We will design a retail platform that will be user-friendly and will be customized as per your business needs.
Stay informed and up-to-date on all the latest news from ManekTech.
Areas we serve
USA
4100 NW Loop 410, Suite 200, San Antonio, Texas, USA 78229
UK
7 Artisan Place Harrow, HA3 5DS
India
4th Floor, Timber Point, Prahaladnagar Road, Ahmedabad, Gujarat - 380015