Shopify is the go-to solution to develop a SaaS-based eCommerce application. Creating a shop or store on Shopify is simple, but to make it feature-rich and more user-friendly, experts in Shopify development services come into the picture.
At ManekTech, we have expertise in custom Shopify app development for businesses as diverse as furniture stores to appointment booking. From C2C auction platform to loyalty points redemption for credit card companies.
Making Shopify Apps
Shopify's APIs offer an almost unlimited set of possibilities. A seasoned developer can interface the Shopify store with any third-party software easily.
There are two ways to building apps for Shopify stores:
Create a custom app for a client using Shopify APIs that adds features and functionality to their Shopify store.
Build a public app and sell it in the Shopify App Store
Either way, making money for a Shopify store owner is hassle-free. Developers integrate the Shopify billing app/API to charge end-customers one time or every month, depending on if you are dealing in products or services. Our developers can set up subscription-based services for your Shopify store.
Shopify App Development
Shopify development services entail producing web applications to functionality to Shopify stores of millions of businesses. You can add functionality in several ways:
Read and write store data on user actions or internal event notifications.
Leap by extending features inside Shopify admin or POS and adding new features to them.
Present information, catalogs, and product description to customers in an enhancing way.


Shopify App Development Services
Services to integrate public apps with your Shopify store to make it more attractive and comfortable to use for your customers, efficient for your sales and inventory teams, and supply actionable financial and analytics reports.
Shopify eCommerce Website Development
A fully functional website integrated with your Shopify app store, with a mobile-first theme and designs. Launch as an SEO-optimized website designed to support the sales funnel and better target the demographic of choice.
Plugin support, widgets, secure payment gateway, and shopping cart management all integrated into one place.
Shopify Store Setup
If you are a novice in technology but have a great product or service to offer, we can help you set up and manage your store for all technical aspects. The sales and financial teams will be yours, and we will provide virtual assistants for store management.
Shopify Theme Development
Customers stay and shop if they are pleased with your store front's look & feel, navigation, and theme. Every screen and webpage must follow a common theme and should reflect your brand identity. Colors, icons, logos, text, images, animations, and many more develop an aesthetic theme.
Custom Shopify app development using Shopify APIs will let you design your store in your image and not as a run-of-a-mill app. The unmatched functionality from Shopify, your astute creativity, and our technical expertise can make your Shopify store genuinely remarkable.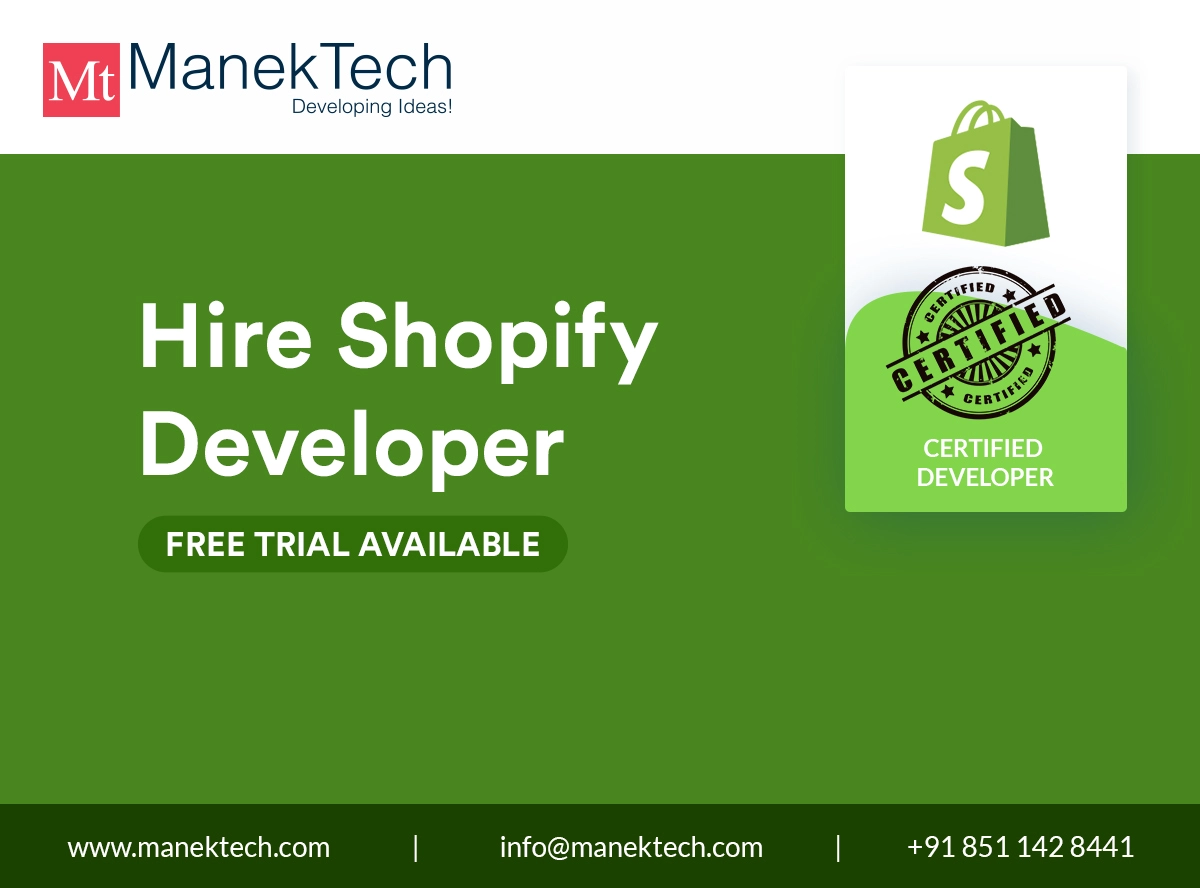 If you want a Shopify expert team to be at your disposal one hundred percent, then you can hire our professional designers and developers. They will report to you and follow all your instructions if they are within the contract parameters.
Our developers and we honor the NDAs signed with you, and any Intellectual Property they produce while in your service will be yours.
Why choose ManekTech for Shopify Development Services?
Team of experienced developers.
User-friendly and feature-rich apps for every business need.
Rated one of the Top Shopify App Development companies.
Rigorous quality checks, extensive testing, and application of Shopify best practices are our hallmarks.
24x7 ticket-based support for bugs and issues.
Reliable and cost-effective onboarding, including data migration.
Elegant eCommerce solutions for products, services, and everything in-between.
Secure design and development practices to keep your and customer data under wraps and safe.
Free Trial available on each dedicated Shopify service offered
Areas we serve
USA
4100 NW Loop 410, Suite 200, San Antonio, Texas, USA 78229
UK
7 Artisan Place Harrow, HA3 5DS
India
4th Floor, Timber Point, Prahaladnagar Road, Ahmedabad, Gujarat - 380015