Onshore vs Offshore: "Master your strengths, outsource your weaknesses." This statement was made by Ryan Khan, the founder of the Hired Group, and it makes a lot of sense in the modern business world. A lot of times, as a business owner, you spend time and energy making up for your weaknesses. You strive hard to overcome your business, whether it is marketing or software development.
You overspend on the project eventually, and your competitors take up the top spot. Despite all the hard work, your business doesn't move an inch. One question-was that worth the effort? No! The smart thing would have been to hire someone smarter and get the job done.
That's what most of you would do when it comes to building a software. You would rather get it done from someone with the technical knowledge than spend ages building it.
Software development outsourcing is estimated to grow by 70% between 2022 and 2023 (Bloomberg). Companies are gradually recognizing the importance and abilities of a remote team to enable faster growth and greater flexibility.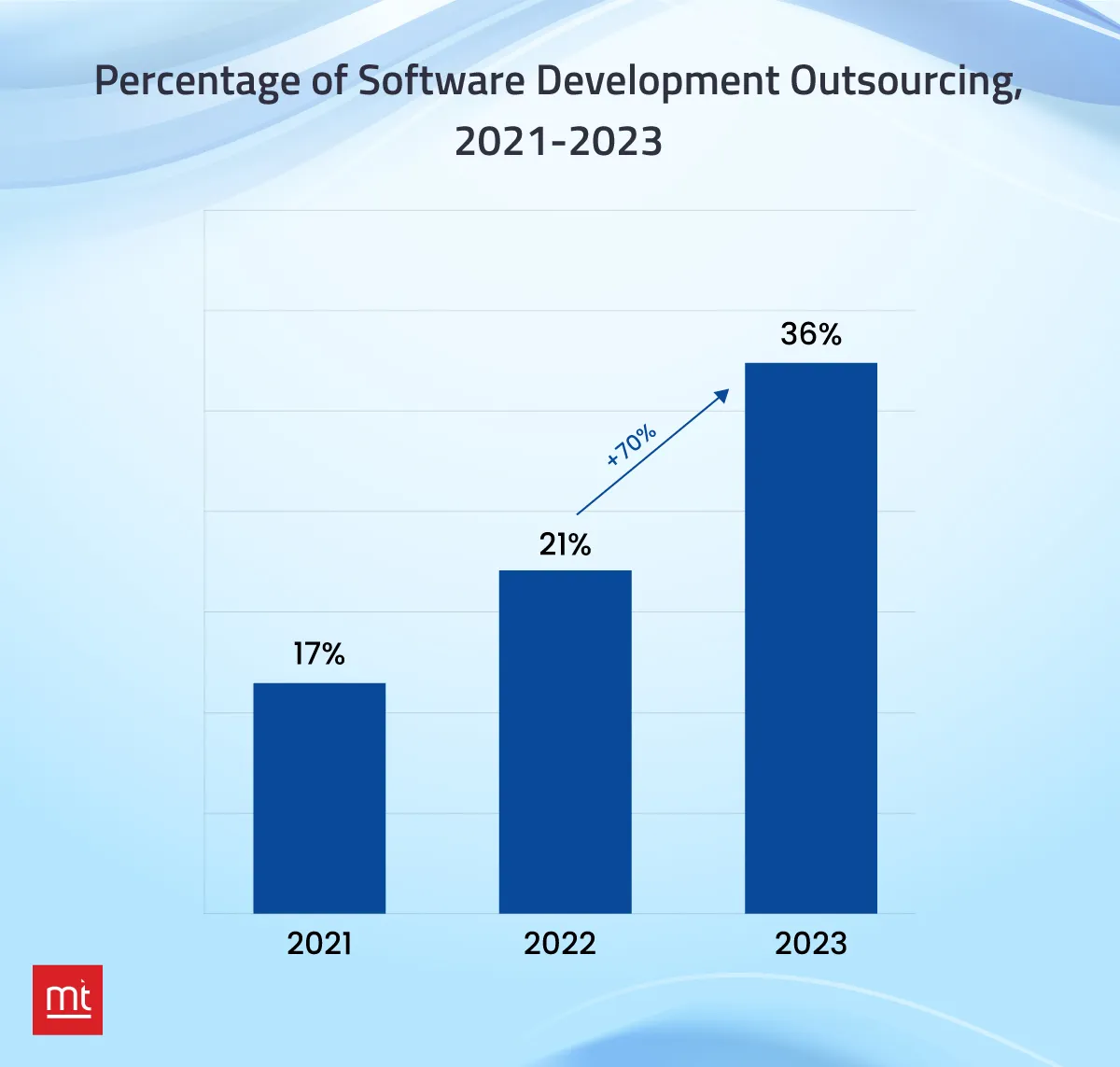 However, when it comes to software outsourcing, most of us aren't sure which approach would best suit us. Whether to go with onshore development or look for companies offshore?
Onshore vs Offshore guide will help you identify the approach that best fits your culture, values and work policies. We will take you through the approaches, their benefits and the factors to consider when outsourcing the project.
What is Onshore Software Development?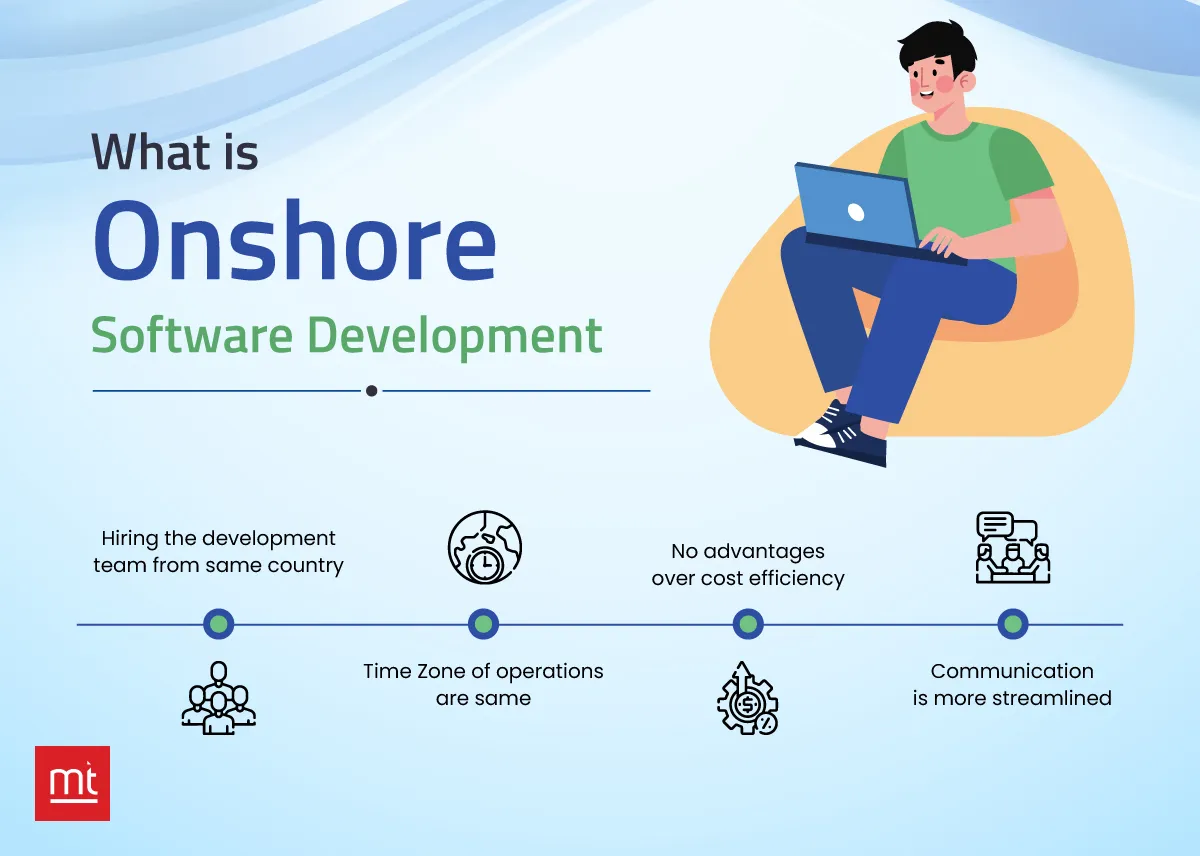 When you work with a software development company that shares your timezone and location, it is considered onshore development. If you are a business in the US, you can choose to work with someone who is located nearby.
Most businesses prefer this so that they can have better control over the project. It also allows them to connect with the developers in-person and discuss the potential changes.
When you go with onshore development, you are also choosing someone who works about the same hours you do. Similarly, they also follow the same culture and work policies, which makes things a bit easier.
Advantages of Onshore Software Development
If you are planning to choose an onshore development approach, you might want to know how it can help.

1. Communication
Yes, as they are located in the same region they can speak your language. Moreover, they would be able to follow your language better than someone else. For instance, if you are from France, and have chosen a local company, you can converse in your language. This would enable the job to get done faster.
2. Legal Compliance
As you work in the same country, the same laws and taxes apply to both companies. Moreover, you would be adhering to the same legal compliances. This makes paperwork simpler and efficient for both of you.
3. Real-time Collaboration
As discussed, staying in the same location has its advantages concerning transparency. You can easily connect with each other or meet over a cup of coffee. You can even visit your developer's office to discuss the changes or issues with the current code. This speeds up the entire process.
4. Quality Assurance
As your team has greater control over the development processes and the code, you can stay assured about the quality. The developers will connect in case of bottlenecks or issues. As there is greater transparency and better control, you will notice that they offer greater quality.
5. Increased Flexibility
As the team responds to your issues and feedback immediately, you are assured of constant progress. Owing to their instant collaboration and real-time efforts, you will notice that they meet all the deadlines and offer greater project flexibility.
Disadvantages of Onshore Software Development
While onshore development matches all your requirements, it may not be entirely suited. Here's the downside to the approach.

1. Higher Cost
The per hour cost of hiring an onshore dedicated developer is high. You will be paying them as per your state's work and wage laws. As a result, this would end up being a costly affair for you. If you are extremely tight on your budget, you may notice a major dent in your pockets with onshore development.
2. Limited Pool of Talent
You may not be able to find all the experts in your location. For example, people may have majored in React Native in your country. However, there may be fewer Flutter developers to support your needs. So, if you want to work with a Flutter developer, you need to choose from the few that are available. This leaves you with limited options to work around.
3. Limited Scalability
Owing to the limited resources, your scaling power also goes down. You need to work with the fewer resources available at your disposal. If you need more people, you may not be able to scale faster. This is a major limitation, especially when you are growing your business or scaling your application.
4. Backdoor Offshoring
Backdoor offshoring is a major flipside. A lot of onshore product development companies outsource their jobs to an offshore company at a lower rate. This gets their work done, and allows them to enjoy profits. However, this can cost you more and create quality issues.
As it is not handled by you directly, there is a good chance the software may not be aligned to your vision.
What is Offshore Software Development?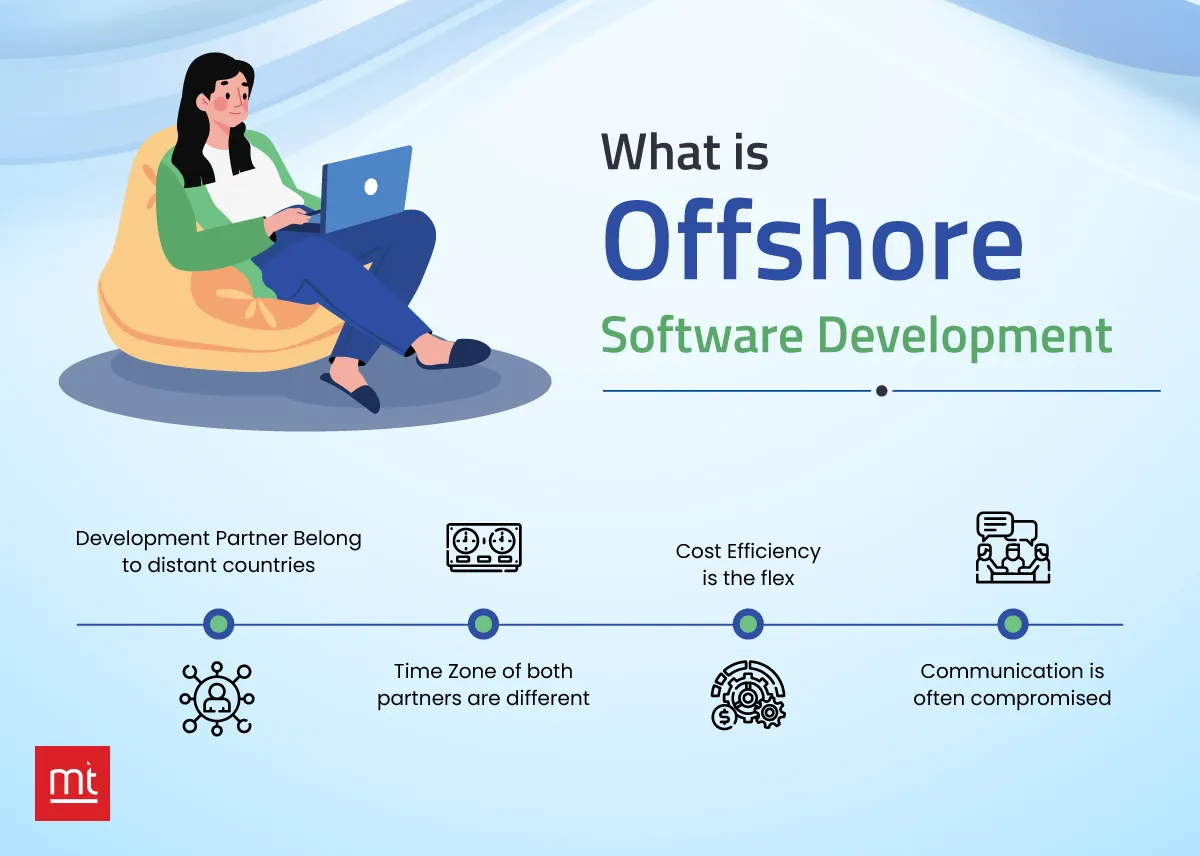 As the name indicates, it is sending your development project off the shores. This means you are not connecting with a company that is located in your region or country. In other words, you would be hiring a dedicated remote team from a country that shares expertise in the domain.
This works best if you can work with remote teams comfortably. It is a great asset to companies that can dedicate a single person to connect with the remote team. There is greater efficiency, better scalability and excellent outcomes associated with offshore development approaches.
It is important for you as a business to understand how to bring out the best from the team.
Advantages of Offshore Software Development
We have identified some of the reasons why you must consider offshore software development for your upcoming project.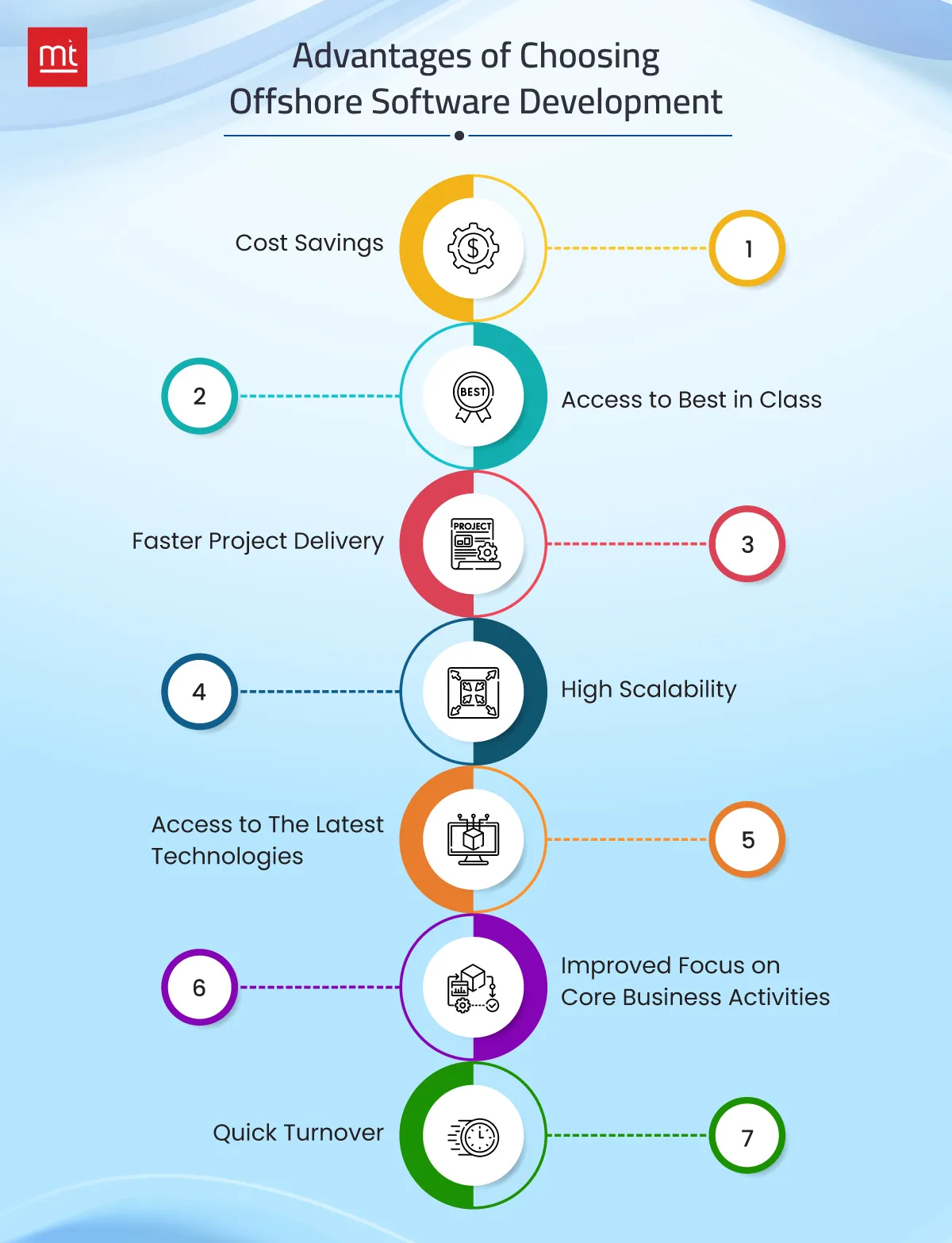 1. Cost Savings
You will save more when you outsource using an offshore development approach. The hourly rates are very less in countries like India and China. As their work laws and hourly rates are different, you would end up spending a lot less in building your software solution.
2. Access to Best in Class Talent
Most countries offshore have mastered several frameworks and tools. The talent pool is massive and experienced. You will find masters of all types swimming in this pool. With offshore development, you can select and hire the remote team that best fits your vision and project goals.
3. Faster Project Delivery
The massive talent pool and the time zone differences work towards helping you build the project faster. As the teams operate in a different culture and timezone, they can offer you solutions faster. They will be available for work, even when your team isn't. Moreover, there are more people available to accomplish a simple task. This allows you to speed up the launch.
4. Access to Latest Technologies
The offshore company would have all the infrastructure needed to build your project. They can easily access the current technologies, implement the updated tools and build a thriving ecosystem.
5. High Scalability
When you are growing your business, you need to grow your mobile application too. This would require more people working on building or scaling it. That's when offshore development companies can be helpful. You can easily increase the strength of the team and the infrastructure to help with scaling your business application.
6. Improved Focus on Core Business Activities
If you were working on your weaknesses, you would forget to build on the strengths. With offshore companies, you need to put only the point-of-contact towards the project. The rest of the team can work on building your core. This would help your business stay at the top.
7. Quick Turnover
When it comes to releasing the application, the offshore teams work faster. You would be able to deploy the app sooner with an offshore team. They can fix the bugs and incorporate the feedback while you are off work, owing to the time zone differences. This gives them the leverage to build a project faster.
Disadvantages of Offshore Software Development
There are some known disadvantages of offshore software development. However, with the right measures you can overcome them easily.
1. Communication Challenges
Language and communication protocol can be a challenge when you are working with the offshore software development teams. You may need an interpreter or a translator to help you connect with the team. In some cases, you might need help with setting up a common communication protocol to achieve the best results.
2. Quality Concerns
As you have limited to no control over the project, quality becomes a major concern. You will not know whether the project has a clean code or has been designed to meet your vision. In case you have hired someone with no knowledge of the subject, you might get a poor quality project.
3. Time Zone Differences
While we have talked about leveraging time zone differences, this can be a challenge. If you want to communicate with the developer in your timezone, you may find it difficult. You might need to plan in advance or include a protocol to do this. This can be time consuming and tedious. It is never about "pick up the phone and dial the number" with offshore companies.
4. Security Risks
As the company is located in another state or country, you may face security issues. To build a software, you need to share the database consisting of highly confidential data. If there is a breach, you may not be able to stop it. You must work on choosing the right team or company to ensure minimal data risks.
5. Legal and Regulatory Issues
Once again you may have different laws and regulations binding you. Working in different countries and understanding the legal compliances can be difficult. What is binding in one country may not be the same in another. Thinking through these aspects is important.
Difference Between Onshore and Offshore Software Development
Onshore vs offshore software development is a long-standing comparison that requires a complete understanding of what you need. Choosing the right approach can lead to creating a thriving application.
| | | |
| --- | --- | --- |
| Factor | Onshore Software Development | Offshore Software Development |
| Collaboration | When it comes to collaborative efforts, it is easier with onshore | Real-time and in-person collaboration is not possible with the offshore team |
| Control | you have greater control over the project as you can meet the team in-person | you have limited control over the team as you cannot meet them in-person |
| Talent Pool | You have limited access to the talent pool as there are fewer resources | You have greater access to the talent pool as there are unlimited resources |
| Time Zone Difference | You work in the same timezone as the onshore development company | You both work in different timezones, which can cause issues in communication |
| The Working Hours | The hours are timed as per your time zone. Hence, your onshore team will work the same hours as you | You both work in different timezones. Hence, they are available 24 hours |
| Cost | This approach can be expensive as you pay hourly rates as per your state laws | The hourly rates may be less for the company located offshore. |

Factors to Consider When Choosing Between Onshore and Offshore Software Development
When you are choosing between onshore and offshore development approaches, you must consider these factors. They will help you identify the best-fit approach for your current business scenario.
One of the major factors that helps you make the right choice is estimating the budget. Knowing how much you can spend will also help you choose the right approach.
In case of onshore development, you will be spending more on the hourly rates, overheads and other aspects. As you will be constantly meeting in-person, you can also add the costs associated with the same.
On the other hand, offshore proves to be slightly cheaper. You can connect with more affordable markets to hire resources that cost less.
Depending on your budget estimate, you can choose to go with onshore or offshore. If you have a strict budget, you must choose offshore development.
When it comes to making the choice between offshore and onshore, expertise plays a pivotal role. Depending on the type of software developer you need, you can choose the approach.
Getting your choice of hire in offshore markets is higher. Their extensive talent pool is their best advantage. You can leverage that to build your business project.
However, if you don't have specific considerations and can find the expert locally, you can go with onshore.
Do you wish to collaborate with your team in real time? Do you believe in meeting them once a week? Would you rather have meetings over skype or remotely? The choice of collaboration also dictates the best approach for your business. If you want greater in-person control over the project, you must go with onshore development.
However, if you are happy being in the remote world and creating a happy team, you can go with an offshore development approach.
If you are working on a specific timeline and it is very crucial, then this could be a deciding factor for the software outsourcing approach. In case of onshore development, you will be working the same hours. Moreover, you would be constantly in touch with the team, making it difficult for them to proceed faster.
As there is no real-time collaboration, the team can work faster. With the iterations, regular progress updates and other aspects, the remote team delivers projects faster.
Complexity of the Solution
Lastly, it is important to choose the approach based on the type of project you are planning. If it is a very complex project, you might want to sit down with the team and discuss it. Remote medium may not fit in these cases unless you are working with an expert team.
Similarly, you may find it difficult to work in time-zone differences on a project that needs continuous attention. You might want to check the best alternative before committing to it.
Onshore vs Offshore: Which is Better?
Each of these approaches has its pros and cons. In the case of offshore development approaches, the time zone difference could be taken as an advantage as well as disadvantage. If a company knows how to leverage this difference, they can win the offshore outsourcing.
When it comes to being better, you must choose onshore if you are worried about security of the data and need more control over the project.
However, if strict timelines, budget of the project and the availability of the resources is your main concern, go with offshore development.
Onshore is best fit for people who cannot work with a remote team or want a more location-based dedicated team. However, offshore is best for those who can collaborate remotely and require an expert to handle their needs.
Why Choose ManekTech as Your Offshore Development Company?
As a seasoned offshore development company, Manektech has always used the challenges to their benefits. We have reduced the communication barriers by planning protocols that are synchronized to the needs.
Our team is known for offering quality solutions, and we have maintained this throughout these 11 years. We have never compromised on the quality or even the timelines for the projects.
Moreover, our team understands how to best use timezone differences to put us at the helm of the curve. We always ensure quicker feedback incorporation and better bug solving owing to this difference. Moreover, we are working when the client is not, and this allows us to deliver better and faster.
With a keen process and an agile methodology backing our team, we have rolled out several projects as an offshore partner.
Conclusion
The Onshore vs Offshore debate is never-ending. It always depends on the company or the person completing the hire. If you want to have more control and enjoy collaborative development, onshore is the best-fit approach for you. However, if you want a team of resources ready to scale and spend less on your project, you must choose offshore.
Choosing the right partner matters when you go for offshore development. They will support your vision and goals. ManekTech is a leading offshore software development company. If you want to collaborate with us for your upcoming project, connect with our team.

Stay informed and up-to-date on all the latest news from ManekTech.
Areas we serve
USA
4100 NW Loop 410, Suite 200, San Antonio, Texas, USA 78229
UK
7 Artisan Place Harrow, HA3 5DS
India
4th Floor, Timber Point, Prahaladnagar Road, Ahmedabad, Gujarat - 380015