In today's world, a company's brand is how it portray itself on the internet. Questions such as "How is their website?"; "Do they have an app"; and "Can I easily navigate their site?" are the reason why companies are investing heavily in user experience and customer experience. The way a company portrays itself through its website and app help consumers understand what a company stands for and if they would like to work with that company.
Finding a website isn't enough, either. Optimizing your SEO and ensuring your website is perfect is what makes a company stand out. Consumers are becoming smarter, and they notice every little detail; if a company has an error on its website, a consumer will notice it and write off the company for being sloppy. A company has to precariously balance between being pristine but being authentic, selling its items but not being a salesman, targeting the right audience but not forgetting the others. All these details make up a company's brand, and that is what we do at Manektech.
We understand the importance of the technological revolution and the switch from using apps as a backup to using apps to build your brand. This is why we offer numerous services such as app development, web development, CMS, e-commerce, and software development.
It's due to our dedication to our clients' success that we're on Clutch's list of Ahmedabad's top app developers! Clutch, a B2B ratings and reviews company, has a detailed and thorough profile that contains our portfolio, our focus and our service lines. As wonderful as all of that data is, we believe the best part of our profile is our client reviews. Through those verified reviews, we get to see how our clients view our services, if they were happy with our engagement, and how their project is currently doing.
One of our past clients is a tourism company. We were engaged to update their website and create new, high-quality content. Here's what they had to say: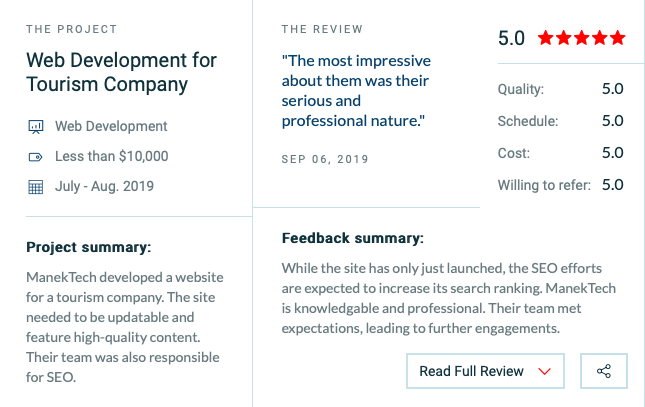 Another one of our clients is a company that creates software for real estate companies. We created a website from scratch using JavaScript, PHP, and WordPress and also built-in custom plugins.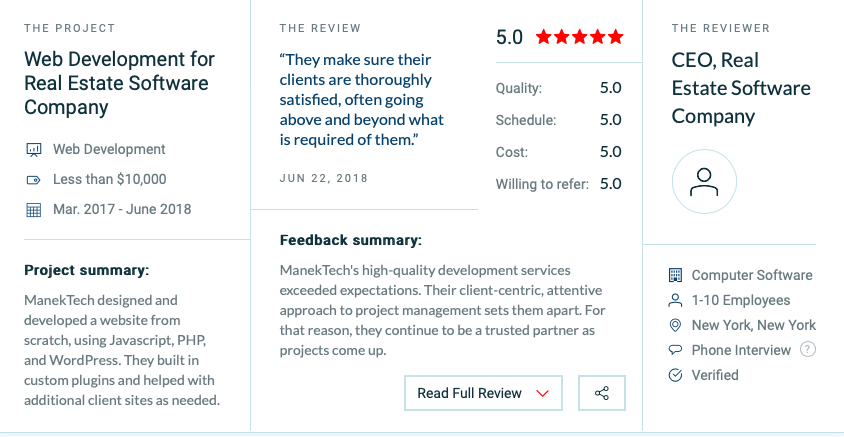 Our reviews are the reason why we believe we are impacting our clients in a positive way. We try our hardest to make sure our clients' vision becomes true.
Our clients' successes combined with our never-say-no attitude is the reason why we are also featured on Clutch's sister sites, The Manifest and Visual Objects. The Manifest is a business know-how resource for innovators and entrepreneurs, and Visual Objects is a digital catalogue that displays a company's portfolio in a visually appealing manner.
The Manifest lists us as a top 5 company in the custom software development category, and clients can also find us on Visual Object's list of top web developers in India.
We would like to take a moment to thank our clients for believing is us and trusting us with their software needs. If anyone needs to update their website or delve into the world of creating an internet brand, contact us, and we'll make.
Need a consultation?
Drop us a line! We are here to answer your questions 24/7
Areas we serve
USA
4100 NW Loop 410, Suite 200, San Antonio, Texas, USA 78229
UK
7 Artisan Place Harrow, HA3 5DS
India
4th Floor, Timber Point, Prahaladnagar Road, Ahmedabad, Gujarat - 380015