Here at ManekTech, we know how impossible it can seem to drive and maintain your business' success while also creating cutting edge technologies to support your operations. That's why we're dedicated to delivering best-in class solutions that are reliable and cost-effective to our clients. For the past eight years, we've worked with over 300 clients to deliver 2,000 successful projects on Microsoft.net, Android, iOS, PHP, just to name a few.
In light of our contributions to the technology industry, we've been named a top mobile app development partner and earned ourselves a coveted spot on the Clutch 1000! This is a list of the leading agencies in the B2B service space, ranked and vetted by Clutch's verified research! We're number 447 on the list, one out of over 200 mobile app developers featured on the list, but one out of only 15 companies featured from Ahmedabad, India!
We'd like to take this opportunity to thank our customers for helping us achieve this award. They took time out of their busy schedules to participate in one on one client interviews with Clutch analysts. They ranked our service on the basis of its quality, timeliness, and cost-effectiveness. In reflection of that feedback, we've been given a wonderful 4.6 out of 5 stars! Please take a look at a recent review below: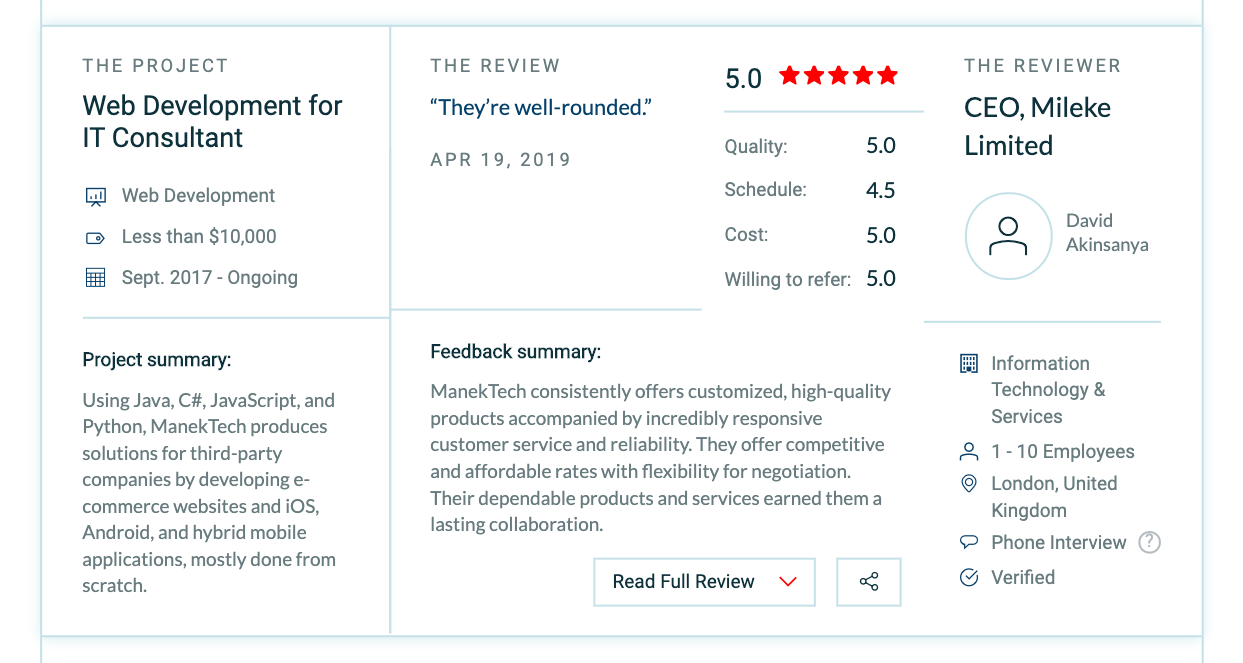 For those who might not know, Clutch is a B2B market research firm that employs a unique ratings methodology to compare leaders across industries. We've also received acclaim from Clutch's two sister sites, The Manifest and Visual Objects. The Manifest, a business data platform that highlights reviews and other data from B2B firms, names us on their list of top development companies. Visual Objects, a visual portfolio platform where you can find projects of leading firms, names us on their directory of top mobile app development companies.
Thank you one and all for making this award possible! Please drop us a line if you'd like to work on a project together today.
Need a consultation?
Drop us a line! We are here to answer your questions 24/7
Areas we serve
USA
4100 NW Loop 410, Suite 200, San Antonio, Texas, USA 78229
UK
7 Artisan Place Harrow, HA3 5DS
India
4th Floor, Timber Point, Prahaladnagar Road, Ahmedabad, Gujarat - 380015