Introduction:
How many of you fear the "C" word (Cost) associated with website development? Despite the advancement of the website development realm, a lot of you have restricted your presence. You don't want to leverage its potential for fear of spending more than you can afford.
As a leading web development company, we will help you navigate the website development cost landscape. As your digital Sherpa with expertise in building capable websites, we can offer complete insights into the cost breakdown.
You will also learn all about the factors that impact the cost of development. Moreover, you will learn the web page development cost by approach, development type and pricing models.
Let's embark on this journey together and learn how you can get a web presence within your defined budget.
Why Should You Invest in a Website for Your Business/Profession in 2024?
Imagine having no office or contact address for your business. Can you register your business or claim for it to be real? No.
That's why you need a website. It is your digital real estate, which helps your customers reach you whenever needed.
Websites are a great way to bolster your brand's online image. It helps you connect with your users in real-time and solve their problems
It is a sureshot way of building your brand's credibility. When you show your portfolio and add relevant case studies, it will improve your authority.
If you want to increase lead generation and convert faster, you must invest in websites. It can help you reach far and wide and enhance acquisitions.
Factors Impacting the Cost of Website in 2024
Several factors can lead to the budget estimate for your business website. Here are a few top factors that you must include when defining the website budget.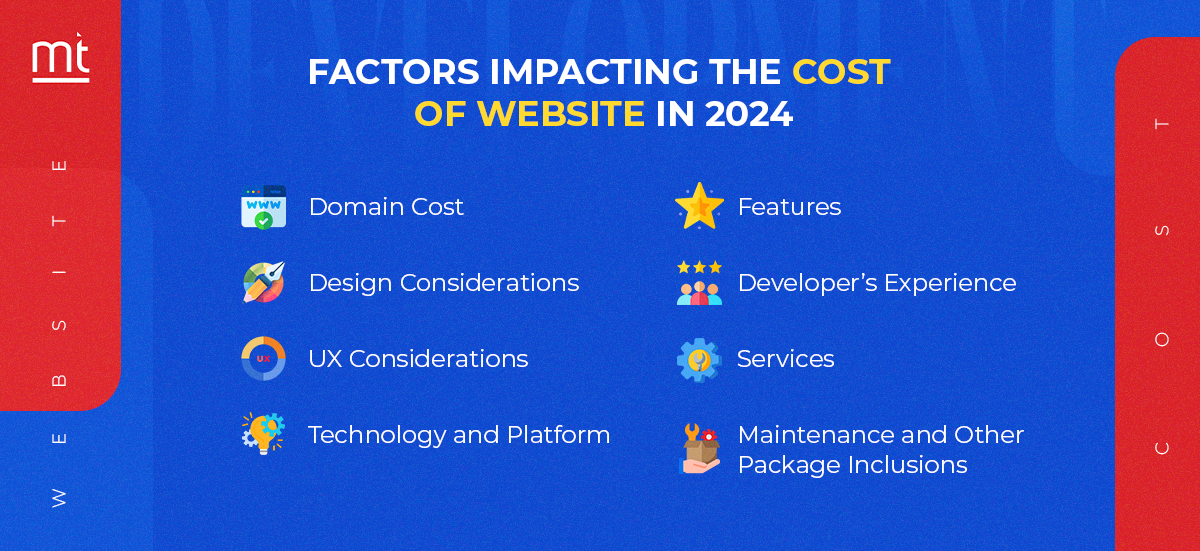 #1 Domain Cost
This is your digital address. Akin to any real estate, you must pay a certain price to rent/purchase the address. The cost will vary as per the extension you choose to use. A ".com" extension might be more expensive than a ".net" extension.
Additionally, you might pay different amounts for monthly/yearly rentals. Moreover, you need to ensure adding renewal costs to your budget.
#2 Design Considerations
If you design your website well, users will come flocking. Once you increase visitors, you can guarantee conversions and improve the bottom line. The design cost will impact your overall design budget. You need a UI UX designer, the right tools, a graphic and animations expert and a proper prototype to get started.
#3 UX Considerations
If you don't design for the user, they will not engage with your website. You must understand the user's learning curve and design to meet their engagement needs. Moreover, you must ensure that the design flow is fluid and interactive.
The cost will involve hiring a user experience designer, set tools and the time frame to introduce experience design.
#4 Technology and Platform
The technology stack is pivotal in assessing the budget for your website. There are several ways to approach website development.
1. If you choose the web builder way, you can customise the application. However, your monthly rentals may be higher. You might need to spend on including the animations too
2. In the case of a CMS, you get an open-source website development technology. However, you may need experts to include customizations.
The technology stack preference will depend a lot on how much you can spend and the cost of including each approach.
#5 Features
When you include diverse features in the website, it becomes unique. A simple website will have the basic features. However, if you add advanced technologies or workflows, you create high-end features.
The features you add to the website will help define the website development cost. If you add basic features, you can develop a low-cost website. However, as you advance the features, your web development charges will increase.
#6 Developer's Experience
You must choose a developer with relevant experience when developing a website. You can hire a freelancer with one-year experience for a basic website. However, if you want to add the latest technologies, you must hire remote developers proficient with the tool/technology.
#7 Services
Your website development cost will depend on the extra services you seek from the tech team. Content creation would attract additional cost in the budget estimate your team is preparing. Similarly, you might have to pay a little extra for search engine optimization solutions.
#8 Maintenance and Other Package Inclusions
This is an ongoing expense that you can add to your overall website development budget. This will include all the updates and upgrades. You can ask your tech team to prepare a package that includes these costs.
If you reserve a full package with maintenance and support, you might save some money.
Different Types of Website Builders and their Costs
Website builders are a great way to build your websites in-house. You don't need to spend a lot of money on resources or infrastructure to use these no-code tools.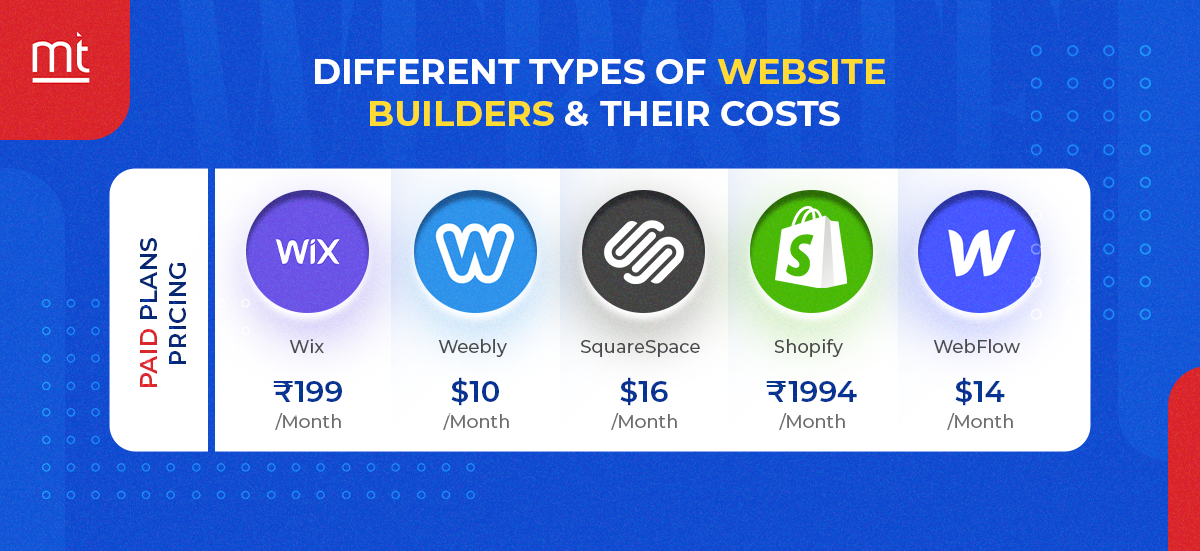 1. Wix
Wix is a no/low code tool that allows you to create usable and versatile websites. You can use the free plan to create a website with Wix-branded logo and ads.
You can even use the in-built website designer to help you create the ideal website for your niche. It is an easy-to-publish tool.
The paid plans for Wix start at INR 199 per month.
2. Weebly
Whether you want to build aesthetic eCommerce websites or a content-heavy solution, Weebly is a good option. This is a great place to promote your brands and design the ideal solutions.
You can create user-friendly and usable websites with this web builder. You get an excellent drag-n-drop editor without coding with the builder.
The paid plans for Weebly start at $10 per month.
3. SquareSpace
This is a quick to setup and use website builder that helps you create your solutions within minutes. It is an excellent way to grow your business on the digital realm.
You can easily add tools and features that enhance your business' abilities. The in-built templates support your customization vision. It helps you build more flexible and scalable sites.
The paid plans for SquareSpace start at $16 per month.
4. Shopify
If you want a website builder that assures excellent eCommerce websites, you must choose Shopify. This addition to your tech stack will help you accelerate development and launch your online store faster.
It has features and functionality that steers you ahead of competition. Moreover, it enables impressive eCommerce capabilities into your store
The paid plans for Shopify start at INR 1994 per month.
5. Webflow
If you want a highly advanced and capable website builder, you must choose Webflow. It is slightly on the expensive side. However, it can offer complex workflows and solutions to meet your unique requirements.
The in-built website-building tools can enable you to design customised and unique websites for your customers. If you hire proficient website developers, you can create customised and advanced codebases.
The paid plans for Webflow start at $14 per month.

Different Approaches to Website Development & Their Impact on Pricing
We touched upon this topic earlier, when we mentioned how the hiring approach will determine the cost of development. Here we will discuss this point in detail, where we will learn how the resource hiring models can impact the budget.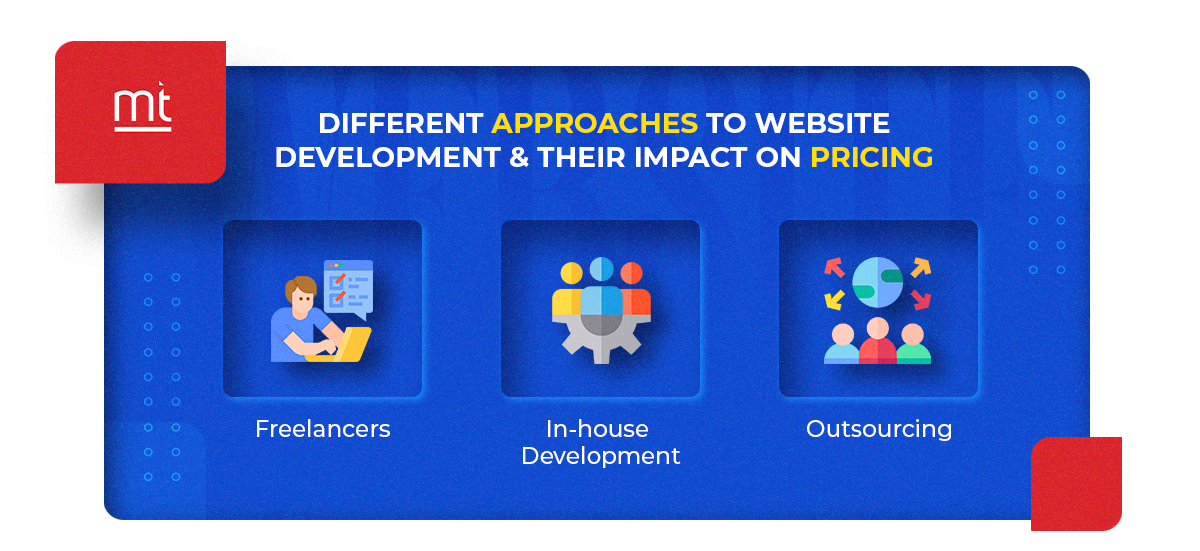 1. Freelancers
You can hire freelancers for website development. This is a popular option, where a single person will be responsible for designing and developing the website.
As you are hiring a single person, the cost of development will go down. Moreover, you can always end the contract upon completion of the project. As a result, they are not overheads to your company.
You can use a payment model that works best for your business. The disadvantage is that you have less control over the project and may need to pay more in case of delays.
2. In-house development
In-house development works best when you want complete control over the project. If you are working on a data-sensitive project, in-house developers will ensure proper security and safety.
You can easily connect and communicate with the developers. Moreover, the process is transparent and you are aware of the progress.
However, you must spend a lot on hiring and retaining costs. You must add them to another in-house or other project once this one ends.
3. Outsourcing
The third option in front of you is to outsource the project development. You can partner with an offshore development team and build the website.
they would have the infrastructure and expertise needed to build your solution. You can easily scale your website with this partnership. Moreover, you can also use one of the many pricing models to work with the team.
The flip side would be loss of control and timezone issues. However, you can always work on them and ensure the best solution.
Website Development Pricing Models
Engaging your website development team or freelancers using the right model can help you stay on budget. We will discuss the top website development pricing models in detail.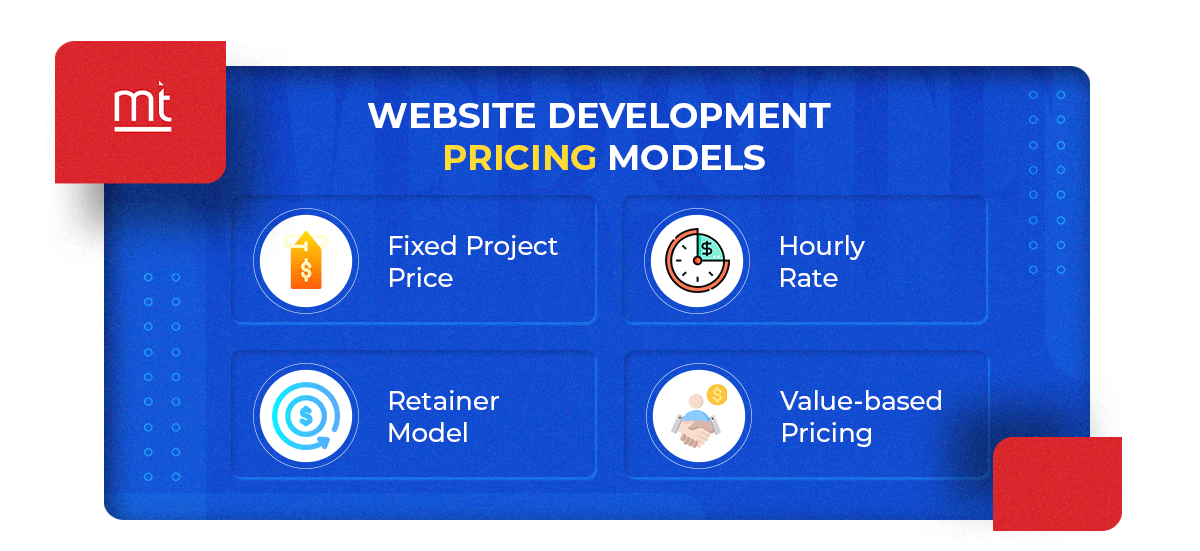 Fixed Project Price
Once you have defined the work scope, you must fix the cost of the website work. You must include all aspects of the development including the requirements and timeline. This would help you define the cost easily.
Moreover, with the resource expertise and work vision definition, you can also add the upfront development costs and miscellaneous expenses
Hourly Rates
Calculate the actual hours your team has spent on the project. This will help you determine the cost of the project. You must know the hourly rates of the developers to succeed with this model
The flip side to this model is that you may spend more than necessary if your project hours go up.
Retainer Model
If you use this model to hire your resources, you would be spending a fixed amount every month. You can sign a contract on the exact expenses you will incur for this project after assessing the scope and determining the objectives.
This is an excellent approach if you don't want to spend a lot of money and wish to have a long-term relationship with the partner.
Value-based Pricing
This model is based on the perceived value of the product. Your partner team will charge your business based on the value they will offer. For instance, they will charge high for design aesthetics and experiences.


Cost to Build a Website in 2024 - Segmented by Types
What type of website do you want to create for your business? The answer can help you estimate the development costs effectively.

1. eCommerce Website Development Cost
An eCommerce website is an extensive and feature-laden solution. You need experienced developers and excellent infrastructure to match your needs. This comes at a cost.
A basic eCommerce website development is approximately $2k. However, as you add features and complexities, the total cost will increase.
The eCommerce website development cost depends on the features, functionality, user workflows and other aspects.
2. Landing Page Development Cost
You might not spend a lot of money when creating a landing page for your business. A simple design with a basic contact form costs approximately $500.
If you want a more interactive landing page, you must pay $1500 to $5000. There are ongoing maintenance and other costs associated with landing page development.
Additional Website Development Costs
When you are estimating the costs, you must also look for renewal and other ongoing expenses.
1. Domain Name
Once you purchase the domain name, it will be available for a specific period. For instance, you can purchase the domain for two to a maximum of three years. However, you must renew the website domain name after that. It is a continuous process, and you must include it in your budget.
2. Hosting Expenses
It is important to note that your website hosting costs need to be renewed regularly. You can purchase hosting for one year. However, you must renew the hosting services. You must add this to your overall budget.
3. Maintenance Costs
Maintenance is an ongoing expense. You must be able to upgrade the website to meet newer demands. It is equally important to add this to your overall budget. This would also include transaction fees, builder expenses and others.
Step-by-step Guide to Estimate Website Development Costs in 2024
We have created a framework using which you can assess your project and estimate the cost properly.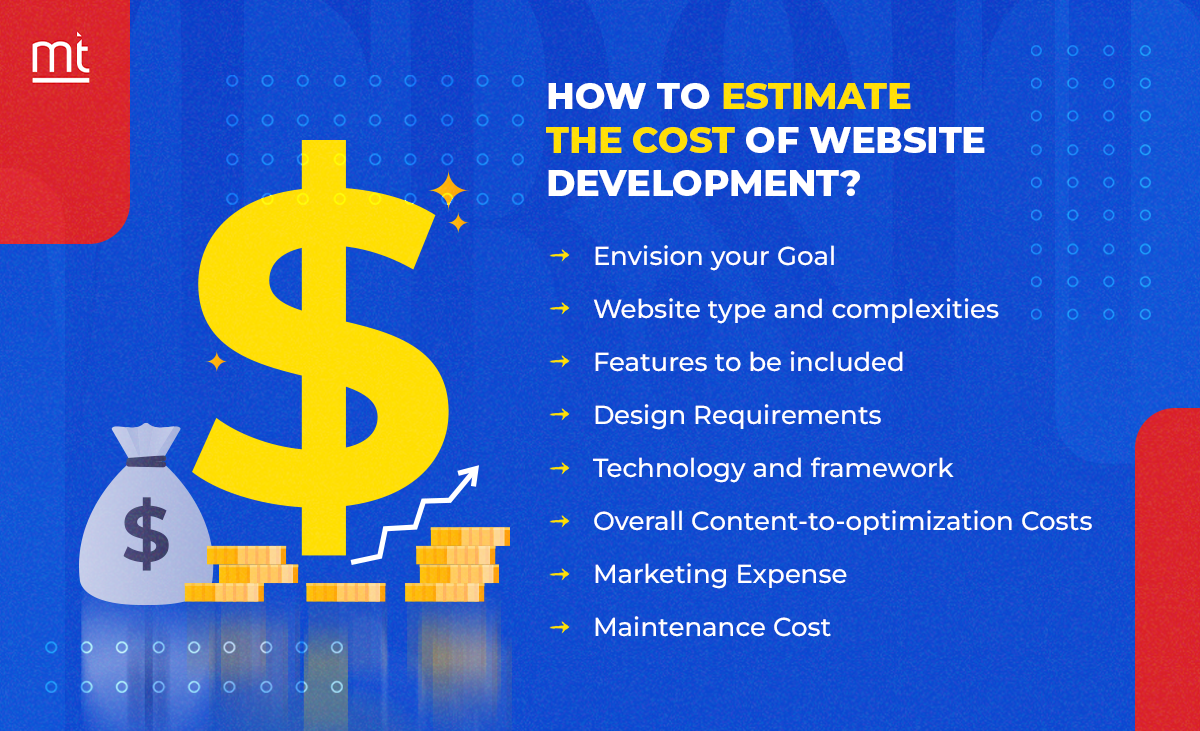 1. Envision your Goal
Know why you need a website for your business. Do you want to increase customers or build a positive brand image? This would help determine the type of website you need. In turn, you can estimate the cost of website development.
2. Website type and complexities
As you add complexities to your workflow, you will notice an increase in the development cost. For instance, if you are developing a basic website, your cost would be approximately $2000. However, as the features and complexity increase, the development cost would increase.
That's why you must assess the type of website, and the workflows before you approach the tech team
3. Features to be included
Features can increase or reduce the cost of developing your business website. A feature-intensive website will cost you more. However, a basic website with minimal features will be less expensive for you.
You must define all the features and functionality you need to estimate the cost of developing a standard website.
4. Design Requirements
When you are building a website, designing is the first step. This involves user interaction and experience design. Estimates should account for these as well. you must include the cost of prototype design, graphics and animations. Making your designs responsive will also add to website design expenses.
5. Technology and framework
When you are evaluating the cost of website development, you must consider the technology/framework costs. Open-source technologies might cost less. If you are using website builders, you must add the monthly rentals to your expenses.
6. Overall Content-to-optimization Costs
The website is incomplete without the content. You must include the content creation, optimization and graphic designing costs in your development budget.
The content creation and optimization costs will depend largely on the quantity of content you need.
7. Marketing Expense
Developing a website is not enough; you must market your solution as well. Your web development charges will also depend on the marketing expenses. If you want your offshore partner to help with email marketing, and paid campaigns, you must add it to the budget.
8. Maintenance Cost
It is equally important to maintain the website. Domain and hosting renewals, updates and upgrades are important parts of the maintenance. You can always seek packages that include maintenance.
Top Ways to Optimise the Website Development Costs
Here are the top three ways you can reduce the website development costs for your business.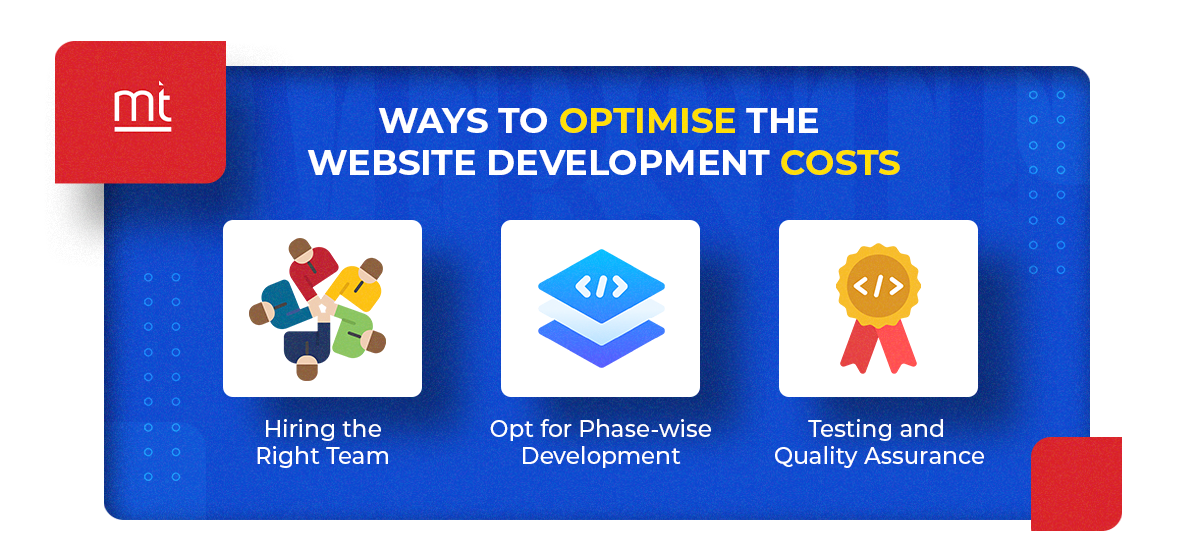 When you hire the right website development team for your business, you can reduce the costs extensively. They are proficient with the website type and can launch your solution quickly.
They are less likely to cause delays or release websites with bugs. As a result, you would get a quality solution in your budget.
Opt for Phase-wise Development
When you build a website, don't release the entire solution at once. Start with prototype development and slowly move towards a basic website release. Once you are satisfied, you can begin advancing the site with added features.
Testing and Quality Assurance
When you test the website before release, you ensure it is free of errors. As a result, your users won't have a reason to complain about it. Testing each phase would mean you are reducing the risk of releasing a low-quality solution. It would help increase acquisitions for the website.
How Manektech Can Help You?
Manektech is a leading software development company. We offer several websites and mobile app design and development services.
Here's how we aim to translate your web app ideas into a brilliant and aesthetic website solution.
Our team offers extensive customizations that can help you build a more engaging and personalised website for your users
We extend the best security using suitable features to mitigate risks and reduce vulnerabilities
Our team identifies and adds the features that would give your website the perfect balance of functionality and aesthetics
Apart from actual development, our team is also involved in content creation, search engine optimization and website marketing.
All in all, partnering with us will help uplift your business and create the best online presence.
Conclusion
We are living in a world where online presence is critical. The question is no longer "when" but "how" you want to create the web presence.
Websites are digital assets that offer you the perfect online visibility. Using this digital address, you can connect with your customers, and solve their issues in real time. Moreover, it gives you the opportunity to acquire more customers from your target and blur the geographical boundaries.
Manektech can help you with the right approach and solution. We can also help you choose from web app vs website and deliver the most appropriate solution.
If you think we missed a factor or two while estimating the costs, please share it with us in the comments.

Stay informed and up-to-date on all the latest news from ManekTech.
Areas we serve
USA
4100 NW Loop 410, Suite 200, San Antonio, Texas, USA 78229
UK
7 Artisan Place Harrow, HA3 5DS
India
4th Floor, Timber Point, Prahaladnagar Road, Ahmedabad, Gujarat - 380015